NUTRISHIELD COMBI SUBSCRIPTIONS
NUTRISHIELD PREMIUM COMBI SUBSCRIPTIONS
SUBSCRIBE FOR A REGULAR MONTHLY PACK
for £24.95 plus P&P SAVE £3
SUBSCRIBE FOR

TWO

30-DAY PACKS of NUTRISHIELD PREMIUM
EACH MONTH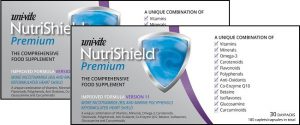 NUTRISHIELD ESSENTIALS COMBI SUBSCRIPTIONS
SUBSCRIBE FOR A REGULAR 30-DAY PACK of ESSENTIALS STANDARD
for £10.95 plus P&P SAVE £1
SUBSCRIBE FOR A REGULAR 30-DAY PACK of ESSENTIALS VEGAN
for £10.95 plus P&P SAVE £1
SUBSCRIBE FOR

TWO

30-DAY PACKS of NUTRISHIELD ESSENTIALS
EACH MONTH
OTHER COMBI SUBSCRIPTIONS
NUTRISHIELD PREMIUM PLUS JOINTSHIELD
for £24.95  plus £9.95 plus P&P £1.95
TOTAL £36.85
Single order for a single pack
We process online payments securely via Paypal. For single purchases, you pay using your Paypal account OR a debit/credit card.
Regular subscription order
To set up a subscription order online, you need a Paypal account.
Call us to set up a regular order using a debit or credit card or monthly standing order payment.
Single order for more than one pack
To order more than one pack of NutriShield Premium or Essentials, call us or go to our online catalogue at www.uni-vite.com.
SPECIAL OFFER vouchers
To order using a special offer voucher code, either call free or go to our online catalogue at uni-vite.com and enter your code at the checkout.
Uni-Vite is an established UK company with its head office in Aylesbury, Buckinghamshire.
We have regular monthly customers who have been ordering NutriShield since its launch in 2001.
The raw materials in our products are high quality and expensive, but we don't sell through retail shops so that we can keep our customer prices as fair as possible.
Please do phone us during office hours with any questions, or contact us via email. You will speak to one of our experienced team of staff who work on site in Aylesbury.
We welcome orders from anywhere in the world.
UK
FREE postage on all orders over £49 [£1.95 under this amount.]
Europe
P&P of £4.90 per order is added to European orders. Now that the UK is outside the EU, VAT is no longer charged by us on orders to Europe. However, you may have to pay import VAT in your country.
Outside UK and Europe
We have to charge P&P of £7.10 per order. But you will not be paying the 20% VAT which is shown in our quoted prices.
---