The vitamin supplement for women that combines the most protective nutrients from the world's healthiest diets
Some women stay healthier, live longer and age slower. You can too.

Genes and lifestyle play a part, but nutrition is a major factor. Especially as we now know that certain nutrients can switch good genes on and bad genes off, and others protect DNA from damage.
Going far beyond a simple A-Z vitamin supplement, NutriShield includes optimum amounts of nutrients that are particularly significant for women's health like a full range of B vitamins, soy isoflavones, Omega 3 and zinc, plus iron (for under 50s only).
It's the UK's most comprehensive vitamin supplement for women.
NutriShield looks and is a very different vitamin health supplement
Scientifically classified as an "MDS" – Multi-ingredient Dietary Supplement
Based on 35 years of research by leading health scientist Dr Paul Clayton
Taken by tens of thousands of people in the UK on a long-term basis over many years
Proven anti-inflammatory and anti-oxidant effects in laboratory tests
A unique combination for women's health
The following nutrients have all been found, in significant amounts, in diets linked to long-term health and longevity.
NutriShield Essentials for WOMEN under 50
NutriShield Essentials contains all these vitamins and nutrients in a unique formula with 3 different caplets a day – and at what research indicates to be OPTIMUM, not just RDA levels. A free IRON supplement is added on request – recommended for pre-menopausal women only.
NutriShield Premium for WOMEN over 50
If you are over 50, or want our most comprehensive supplement, choose NutriShield Premium, in a convenient daily sachet, which adds three extra caplets daily containing these other protective nutrients.
NutriShield Premium is a heart, brain, skin, joint and eye vitamin supplement ALL IN ONE!
Click for a short summary of what all the nutrients do.
See just some of hundreds of reviews. And see the independent laboratory test results here.
All-round health defence slideshow
We do become more prone to illness as we age. But that's not so much due to the passing of the years as to the fact that inflammation builds up in tissues, DNA is damaged by free radical action, cell regeneration is less efficient, and the immune system becomes less effective.
We have summarised the latest research on slowing ageing and staying healthy in 14 slides called The Pillars of Health. Click here or on the picture.
What would you have to eat to get all the nutrients in NutriShield?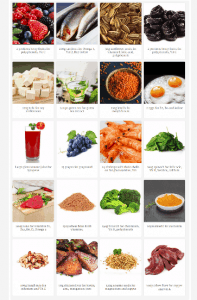 NutriShield's unique combination of nutrients has proven anti-inflammatory, anti-oxidant and cell-building effects.
But to get this combination of nutrients, day after day and in protective amounts, from food alone, is really difficult, even for the most health-conscious person.
To see just how difficult, click here or on the picture to see what you would need to eat on a daily basis to get the range of nutrients at the levels they are in EACH DAYPACK of NutriShield.

We have been in business in the UK for over 30 years and we have NutriShield customers who have been buying our unique supplement since its launch in 2001.
Because the supplement is so comprehensive, we give you a guarantee of complete satisfaction.
Go to the Shop to see all delivery and payment options, or call us to set up a regular order.
Freephone 0800 279 7740
"NutriShield is an excellent product which keeps me healthy and prevents diseases associated with old age."
Retired Teacher aged 71-80
See more reviews here.
"I have less colds and illness. My hair has doubled in thickness."
Model aged 21-30
See more reviews here.