3-a-day SYNERGISTIC formula
However powerful the effect of an individual nutrient on health – like vitamin D, vitamin C, Omega 3 or curcumin – it is the combination that matters. In this respect 1+1+1 really can equal much more than 3!
REACHING EVEN 5-A-DAY CAN BE HARD
How concentrated fruit and vegetable extracts can help
And now researchers at University College London are recommending 10 portions for a really 'health defensive' diet. That level significantly reduces cancer, heart disease and indeed all other mortality risks, say the researchers in a report published by the British Medical Journal.
Based on the 12-year study, the researchers also found that vegetables had a four times healthier impact than fruit.
But few people can realistically manage 10 portions of fruits and vegetables EVERY day.
Although whole fruits and vegetables are ideal because they contain so many different health-promoting compounds, we do know that polyphenols (some of which are also called flavonoids) are amongst the most beneficial. So adding selected polyphenols in extract form can make a worthwhile contribution towards your overall nutritional targets.
The NutriShield Essentials ingredients have a potent synergistic effect. The nutrients in the combination work together to help you reach the targets that health researchers know to be important for both short and long-term health.
Powerful plant extracts in NutriShield
Hundreds of research studies support its health-promoting properties. 
Curcumin has a particularly powerful anti-oxidant and anti-inflammatory effect so it has a protective role against tissue and DNA damage. It has value in maintaining heart and joint health and there is encouraging laboratory research to show it may have an anti-cancer role.
It contains a very powerful anti-oxidant polyphenol (a catechin) called epigallocatechingallate
which researchers believe may be linked to the much lower rates of cancer in the Far East. Multiple studies show that green tea drinkers have a significantly lower cancer risk than the general population.
This is another powerful anti-oxidant polyphenol (a procyanidin).
A recent Medical News article featured research linking grapeseed extract to  cardio-vascular health, improved wound healing, stronger bones and possibly even better cognitive function.
Bilberry is known to be one of the fruits with the highest documented health benefits from anthocyanidin polyphenols.
Quick summary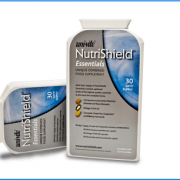 Achieving the goal of 5 portions of fruits and vegetables a day is one a lot of people struggle with. Now a UK study says it should be 10. Plant extracts of high-polyphenol fruits and veg like green tea, curcumin, grapeseed and bilberry are one way to help close the gap.