The Ultimate Health Supplement to Support Healthy Ageing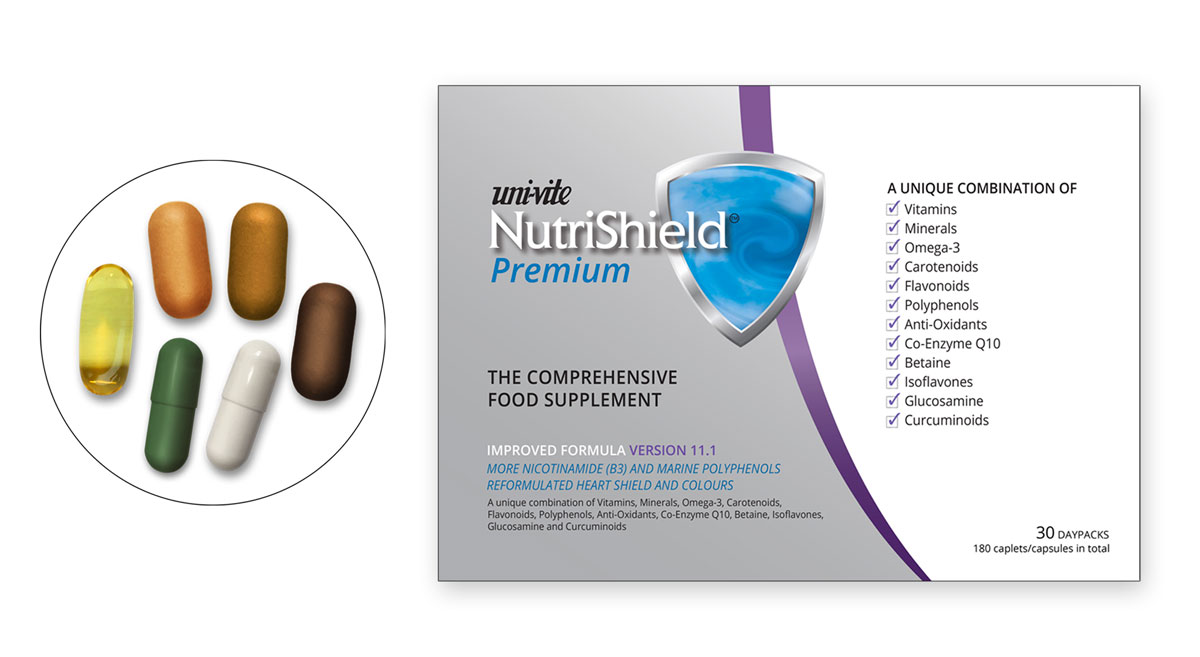 No other supplement has so many nutrients that help protect your health
and

counteract the ageing process.

People who eat the Mediterranean Diet and the Japanese Diet are known to have the fewest health problems and averagely live the longest.

We analysed those diets and created a supplement that gives you key nutrients from ALL these foods. If you're looking for one of the best vitamins for tiredness and lack of energy, as well as longevity for people over 50s in the UK, then look no further than NutriShield Premium.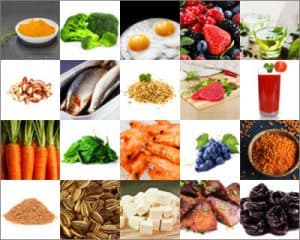 So Nutrishield Premium is a unique combination of:
Vitamins, minerals, and trace elements at optimum levels
Omega 3
Green tea extract, Grapeseed and Bilberry extracts
Curcumin
Lutein, Lycopene, Beta carotene
Co Q10
Betaine
Glucosamine
Soy isoflavones

              Based on the latest longevity science – an ideal supplement for energy boosts for people over 50s
9 ways in which NutriShield health supplement you to look and feel your best

Reducing tiredness and fatigue. See how

Maintaining normal vision, blood pressure, and heart functions. See how

Supporting normal working of immune system. See how

Support for brain and nervous system and cognitive health. See how

DNA synthesis and protection of cells from oxidative stress. See how

Collagen formation and skin health. See how

Supports the creation of NAD+ and mitochondrial health. See how

Supports positive epigenetic change. See how

Supports autophagy and clearance of senescent cells See how
Nutrishield supports multiple processes to help maintain cellular energy, metabolism and healthy DNA. That's why so many of our customers recommend it to their friends. See Reviews
---
Want To Get Started with NutriShield Premium?

NutriShield health supplement gives you nutrients with a BIG impact on health and longevity
As you get older, your nutritional needs increase. That's to maintain energy levels and to counteract the fact that damage to DNA and cells accumulates. It is this damage that underlies ageing and the increasing risk of illness.
The quality of your nutrition is the biggest factor you can control for counteracting this damage and for continued health and longevity.
So you probably already eat a healthy diet. However, latest advice from Imperial College London and the American Cancer Society now recommends:
Oily fish 3 times a week AND 10 portions a day of fruits and vegetables
For most people, that's an ideal rather than a realistic prospect. So NutriShield health supplement helps fill the gap between the two, making it an ideal supplement for longevity and energy boosts for people over 50s.
NutriShield can double your anti-ageing nutrients – every day
When you choose NutriShield health supplement, you have the security of knowing that it was formulated by Dr Paul Clayton – a former President of the Forum on Food and Health at the Royal Society of Medicine.

NutriShield has ALL the essential vitamins and minerals – but they are at optimised, not just RDA levels.

With extra B-complex vitamins for energy, extra vitamins C, D and E, plus minerals zinc and selenium for immune system strength.

With extra Nicotinamide involved in the creation of NAD+.

PLUS 15 micronutrients from 10 different fruits, vegetables and plants – like polyphenols from green tea, grapeseed, bilberry, curcumin, and carotenoids lycopene, beta carotene and lutein.

Sustainable Omega 3 fish oil with high EPA/DHA content.

And much more! 43 high quality nutrients, making it a daily health supplement that supports heart, brain, skin, joint, cell and eye health all in one.
Get NutriShield Premium Now and DOUBLE your intake of anti-ageing nutrients
NutriShield Premium for over 50s gives you 6 health supplements
and a total of 43 different powerful nutrients a day
in a convenient sachet
A range of Concentrated Plant Extracts
High EPA/DHA Omega 3 Fish Oil
14 essential Vitamins and 9 essential Minerals
Glucosamine + Soy Isoflavones
Beta carotene, Lutein, Lycopene plus CoQ10
Betaine

Why nutritional needs increase with age
An adult's body makes over 50 billion replacement cells every day. Each cell needs high quality nutrition, otherwise errors can creep in and multiply, which are at the heart of ageing and 'age related' diseases.
Key causes of these errors are free radical damage, inflammation and a gradual weakening of the immune system.
NutriShield Premium health supplement contains multiple nutrients that help combat all three, making it one of the best vitamins for tiredness and lack of energy on the market in the UK today.
What would you have to eat to get all the nutrients in NutriShield?
NutriShield's unique combination of nutrients has proven anti-inflammatory, anti-oxidant and positive cell-health effects. To get all these nutrients day after day from food alone, and in amounts that make a difference, is really difficult, even for the most health-conscious person.
Open the box below to find out what you would need to eat EVERY DAY to get the range and levels of nutrients in each daypack of NutriShield Premium health supplement.
NutriShield is based on Health Defence by Dr Paul Clayton
Dr Paul Clayton is a former Chair of the Forum on Food and Health at the Royal Society of Medicine, who wrote the bestselling book Health Defence.
NutriShield health supplement was designed by Dr Paul Clayton as an all-round protective health defence for the over-50s.

Try now with our money-back guarantee
We have been in business for over 30 years but this may be the first time you have dealt with us. If, for any reason whatsoever, NutriShield health supplement does not live up to your fullest expectations, simply call or email us, and we will give you an immediate full refund, including postage.
See what users say about NutriShield health supplement
Retired Teacher
aged 71-80

"Nutrishield is an excellent product which keeps me healthy and prevents diseases associated with old age."
HR Consultant
aged 51-60

"Definitely improved general health … Very convenient packets and great value for money."
Retired Psychotherapist
aged 71-80

"I trust this product and feel sure that it is a positive contribution to my general health."
Retired Building Surveyor
aged 89

"As now approaching 90, my ageing process appears very favourable compared with contemporaries – even those less aged."
Retired Chief Scientific Officer (Medical)
aged 61-70

"People compliment me on my energy and looks."