VITAMIN D - THE SUNSHINE VITAMIN
High-strength Natural Vitamin D
2,000 IU Vitamin D3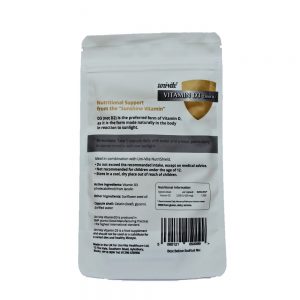 Vitamin D supplements are now widely recommended by health professionals and government experts, including the NHS.
UK regulators approve these health claims for Vitamin D:

Vitamin D contributes to the maintenance of normal bones, teeth and muscle function

Vitamin D contributes to the normal function of the immune system

Vitamin D has a role in the process of cell division

Vitamin D contributes to normal blood calcium levels and the absorption of calcium and phosphorus
Why you need more vitamin D
Recent research suggests that optimum levels of vitamin D intake may be far higher than has been thought.
Food sources are limited and the natural production of vitamin D in the skin from sunlight is further restricted in the winter months. In addition, our skin's ability to convert vitamin D from sunlight declines as we get older.
Low levels of vitamin D and deficiency are linked to serious health risks.
However 'deficient' means that you are not even getting enough vitamin D to meet the official RDAs. Whereas many expert vitamin D researchers believe that an optimum blood level of vitamin D brings health benefits well beyond its effect on bones, muscles and even the immune system.
Dr Paul Clayton and Colin Rose have written a short e-book on the case for optimum vitamin D. You can download it FREE here.
Recommended use in winter November to February UK, Europe, North America
ADULTS – one capsule (2,000 IU) a day
ADULTS in outdoor occupations – one capsule every other day
CHILDREN 12-18 – one capsule every other day
The consensus from the NHS in the UK, the European Food Safety Agency and the US National Institutes for Health is that the safe level of daily supplementation for adults is up to 4,000 IU of Vitamin D, while many Vitamin D health researchers advise up to 10,000 IU per day.


We have been in business in the UK for over 30 years and we guarantee your complete satisfaction or a full refund. Buy online, or call us.
Freephone 0800 279 7740
UNI-VITE'S VITAMIN D3 CAPSULES
Vitamin D3 (cholecalciferol) is the form of vitamin D that is made naturally in the body from exposure to sunlight. It is easier to absorb and activate than the artificial form D2.
Active ingredients: Vitamin D3 (cholecalciferol) from lanolin
Other ingredients: Sunflower seed oil
Capsule: Gelatin (beef), glycerol, purified water
---
BUY 2 PACKS OF 120 CAPSULES
SAVE £1

£8.90 plus postage
When you click Buy Now, you will go to Paypal's secure checkout, where you can pay EITHER with a Paypal account, OR as a guest with major credit and debit cards.
---
YOU'RE BUYING FROM A UK COMPANY
Freephone 0800 279 7740
We have been in the health and nutrition business in the UK for over 30 years. We have a small range of powerful, targeted supplements developed in response to research from the most respected scientific institutions.
If, for any reason whatsoever, our products do not live up to your fullest expectations, simply call or email us, and we will give you an immediate, courteous and full refund, including postage.
We process online payments securely via Paypal. For single purchases, you may pay using your Paypal account OR a debit/credit card.