3-a-day SYNERGISTIC formula
However powerful the effect of an individual nutrient on health – like vitamin D, vitamin C, Omega 3 or curcumin – it is the combination that matters. In this respect 1+1+1 really can equal much more than 3.
OMEGA 3 CAN IMPROVE YOUR HEALTH
Oily fish is rich in the Omega 3 essential fatty acids EPA and DHA
Summarising recent research from the universities of Harvard, Oxford, Maryland, UCLA Berkeley and many others, the top benefits of Omega 3 fish oil have been confirmed as:
The maintenance of healthy vision
Normal brain function – helping to ward off cognitive decline in later years
A reduced risk of hypertension and lowered cholesterol and lower risk of cardio-vascular disease and stroke.
Reduced anxiety and symptoms of depression
Improved joint health and reduced arthritic pain
Reduction in symptoms of ADHD (attention deficit hyperactivity disorder) and improved literacy and behaviour in children with ADHD
Improved immune response, which is why some researchers believe that Omega 3 contributes to breast and prostate health by helping to inhibit tumour development.
Improved fertility. In men, DHA plays a role in the health and mobility of sperm. For women, the ability of Omega 3 to reduce inflammation is important as that in turn reduces the chance of hormone imbalance.
Healthy pregnancy. According to the American Pregnancy Association, most women are deficient in EPA and DHA as they enter pregnancy and become even more depleted during pregnancy. This is because the placenta needs to supply the foetus with DHA from the mother, since DHA is a vital building block of the growing baby's brain, eyes and nervous system. Once the baby is born, supplies of Omega-3, via the mother's milk, continue to be vital to healthy brain development and immune function.
Finally Omega 3 may help in maintaining a healthy weight. A study in the American Journal of Clinical Nutrition showed that a combination of fish oil supplements and regular exercise can reduce body fat while simultaneously improving heart and metabolic health.
Omega 3 has also been linked to a lower risk of osteoporosis and improvements in diabetic patients, although the research is not conclusive.
ANTI-OXIDANT
Omega 3 is an antioxidant, which means it helps counteract oxidative free radical damage to DNA and tissues, which accounts for its ability to reduce the risk of heart problems. The same mechanism makes it beneficial for smoother skin.
ANTI-INFLAMMATORY
Omega 3 is also an anti-inflammatory which means it counteracts the damaging effect of what is called 'chronic sub-clinical inflammation'. This type of inflammation, which builds up in body tissue, is at the heart the many illnesses that can otherwise develop in later life.
CORRECTS OMEGA 6/3 BALANCE
Finally there is a consensus amongst health professionals that the modern diet contains an unhealthy ratio of Omega 6 to Omega 3 oils. Omega 6 – found in widely used vegetable oils like sunflower and corn, and therefore in very many fast foods and processed foods – is pro-inflammatory (it promotes inflammation), which is adverse to health. Omega 3 oils are anti-inflammatory, which is positive for health. Supplementing with Omega 3 can improve the balance – and your health.
Quick summary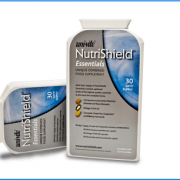 Omega 3 fish oil is known to have an important role in the health of the brain, heart, joints, skin and vision. It is also a vital nutrient during and immediately after pregnancy.