Long COVID is characterised by long-term symptoms like brain fog, fatigue and/or memory loss. Brain fog is loosely defined as the inability to focus on tasks, memory problems, general fatigue and headaches.
A study in Cell Journal published October 16th 2023 links long Covid with low levels of serotonin - a vital neurotransmitter that affects mood, memory and sleep. About 90% of serotonin is found in the lining of the gut.
Colin Rose is a Senior Associate Member of the Royal Society of Medicine, and Fellow of the Royal Society of Arts.
He is the Founder and Director of Research and Innovation of Uni-Vite Healthcare and author of a recent book: Delay Ageing: Healthy to 100, where he reveals how to slow ageing and, therefore, help prevent later-life illness.
New Long Covid study implicates low serotonin and tryptophan
The researchers found that traces of the SARS-CoV-2 virus remained in the gut of some patients long after infection. This triggered long-term inflammation, which reduced absorption of the amino acid tryptophan in the gastrointestinal (GI) tract.
Tryptophan is a building block for several neurotransmitters, including serotonin.
The researchers demonstrated (in small-animal models) that serotonin levels could be restored, and memory impairment reversed, by treating patients with serotonin precursors or selective serotonin re-uptake inhibitors (SSRIs). SSRIs are anti-depressant drugs and can come with side-effects.
So, is there another nutritional route to increasing tryptophan and therefore serotonin levels? Probably.
Nutrient routes to more tryptophan and serotonin
Probiotics
Gut bacteria produce much of the tryptophan from which serotonin is made. So could probiotic supplements help boost serotonin production?
A study in 2019 suggests they could. An 8-week intake of a probiotic blend including Bifidobacterium and Lactobacillus strains improved serotonin levels.
Vitamin D, Omega 3 and B vitamins
In addition, vitamin D3  helps the body make and use serotonin, including in the brain. And Omega 3 helps the release of serotonin.
Finally, a number of B vitamins – B6, B12 and folate – produce serotonin.
Consequently, I would suggest that anyone suffering from Long Covid tries increasing their levels of B complex vitamins, Omega 3 and D3 – which of course are all in NutriShield. And see if adding our Microbiotic Plus probiotic helps.
Prevention is better than cure!
What can you do with nutrition to prevent Covid, and particularly Long Covid?
Uni-Vite's ImmunoShield contains WellmuneTM – a natural immuno-regulator that has been proven in multiple studies to boost the numbers and activity of key components in the innate immune system.
Remember that your innate immune system is your 'front line' defence against new viral and bacterial attacks you haven't previously encountered.
Your separate acquired immune system is the second line of defence – the one with 'memory' that reacts to previously encountered threats.
Covid hasn't gone away, and it's a 'shape shifting' virus. We know that the current SARS-Covid-19 strain – BA.2.86 and dubbed Pirola – carries an extra 30 mutations compared to other previous dominant variants. This makes it difficult to protect against. So, boosting the innate immune system is important.
ImmunoShield with Wellmune beta glucans, zinc and beta sitosterol
ImmunoShield also contains zinc and the plant nutrient beta sitosterol, which further supports the action of key immune system components called Natural Killer Cells.
Another study also shows that beta sitosterol enhances the effect of Vitamin D3 on immune function in a synergistic manner.
For men, an additional advantage of beta sitosterol is that it may help shrink the prostate in cases of benign prostatic hyperplasia (BPH).
---
Thanks for reading
I spend my time researching the new science of healthy, successful ageing.  And how to extend health span rather than just lifespan.
And if you enjoyed it, please send the link of this article to any friend or family member who might benefit.
Colin Rose
---
NutriShield Premium Health Supplement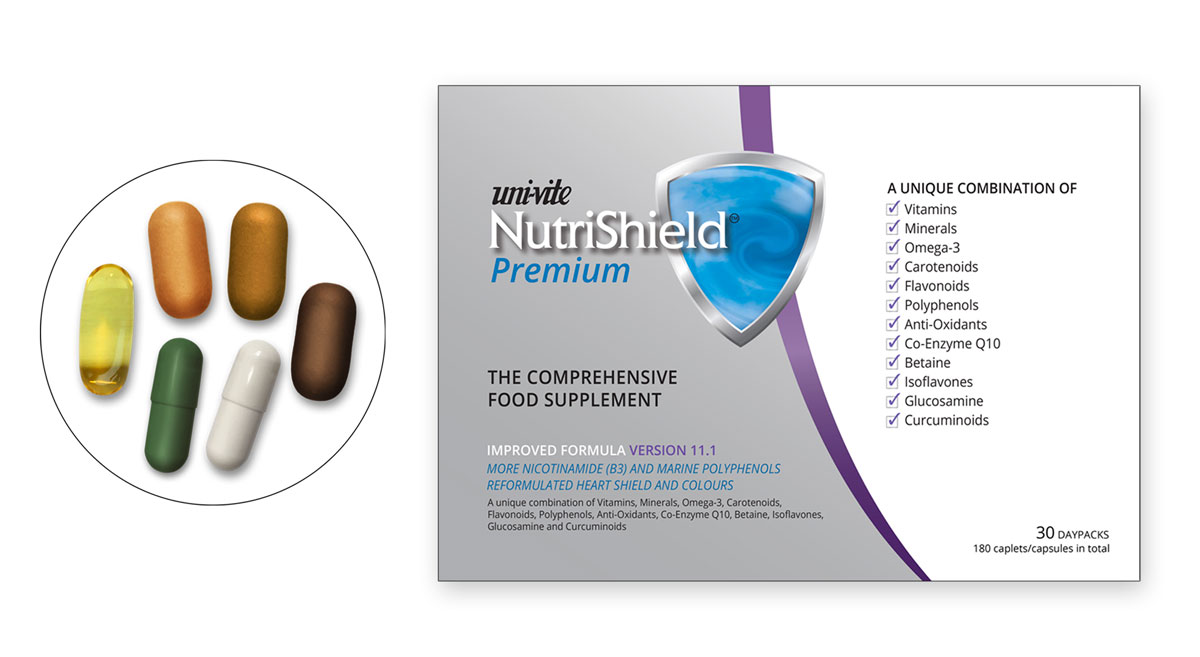 NutriShield Premium was originally designed by Dr Paul Clayton, former Chair of the Forum on Food and Health at the Royal Society of Medicine.
It contains 6 different capsules, combining a total of 43 powerful nutrients to support healthy ageing and has been updated and improved every year since 2002 based on the newest longevity research.
---
Delay Ageing book explains the ageing process and how you can postpone it
Medical researchers agree that if you slow ageing, you also delay the onset of age-related disease. And we know that it's not just nutrition. Sleep, reducing stress and cardio and strength exercise are also essential to longevity and ageing well.
My book Delay Ageing: Healthy to 100, published in 2020, explains the latest ageing science in an accessible way.
It's been rated 5-star and I am sure you will get a lot of benefit from it, as so many have already.
Click here to go to the publisher's website where you can buy the printed book or Kindle version.
---

You can register for a free e-newsletter on the latest in nutrition and health research.
---
You can buy our range of combination anti-ageing, anti-inflammatory and immune-supporting health supplements online from Uni-Vite, a UK company.