Colin Rose is a Senior Associate Member of the Royal Society of Medicine, and Fellow of the Royal Society of Arts.
He is the Founder and Director of Research and Innovation of Uni-Vite Healthcare and author of a recent book: Delay Ageing: Healthy to 100, where he reveals how to slow ageing and, therefore, help prevent later-life illness.
What the meta survey authors say
"Aging and many disease states are associated with declines in nicotinamide adenine dinucleotide (NAD+) levels.

"Preclinical studies suggest that boosting NAD+ abundance with precursor compounds, such as nicotinamide riboside ... has profound effects on physiological function in models of aging and disease.

"Supplementation with these compounds is safe, tolerable, and can increase the abundance of NAD+."
And more ...
"Numerous diseases are associated with reduced NAD+ levels, including metabolic disorders, cancer, and neurodegenerative diseases. The potential benefits of restoring tissue and cellular NAD+ abundance back to young, healthy concentrations on physiological function with aging remain a prevailing question in biomedical research.

"Promising preclinical findings indicate that increasing NAD+ abundance is causally linked to improvements in physiological function and select markers of health span."
Our own conclusions about boosting NAD+ - YES!
We introduced our own NR+A because the research shows that oral supplementation with Nicotinamide Riboside increases NAD+ levels in blood cells by approximately 60%.
This translates to improvements in mitochondrial function and reductions in oxidative stress, DNA-damage pathways, and inflammation. It doesn't necessarily mean you are going to feel far more energetic – the effect is more on cell vitality and therefore long term improved metabolic and mitochondrial health.
Chronic inflammation is a hallmark of ageing and many age-associated diseases.
Although NutriShield Premium, on its own, continues to be our most powerful anti-inflammatory formula, we believe that NR+A is a valuable addition because by boosting NAD+ levels and therefore mitochondrial function, it helps reduce inflammation.
More positive confirmation from top scientist in Harper's Bazaar magazine
Dr Nichola Conlon is a molecular biologist and expert in healthy ageing. Interviewed in Harper's Bazaar in July 2023, she stated that:
"Scientists have demonstrated that boosting NAD+ back to youthful levels can rejuvenate old cells back to a state of youth, leading to multiple beneficial effects against ageing and age-related disease."
Asked about Nicotinamide Riboside supplements, she added:
"... Notable results so far include improvements in cardiovascular function, reduced inflammation, improved cellular energy production, and reversal of biomarkers of ageing."
Dr Conlon went on to suggest that NAD+ precursor supplements also help regulate circadian rhythm and improve sleep.
In a video interview, she said NAD+ supplementation might help women through the menopause – a benefit that is new to us.
How does Apigenin help?
We are also pleased that we are leaders in combining Nicotinamide Riboside with Apigenin.
Although it's complicated, the addition of Apigenin helps reduce the normal drain on NAD+ caused by inflammation. The video on our home page explains: NR+A, NAD+ Booster | Boost NAD+ for Healthy Ageing | NutriShield
Thanks for reading
I spend my time researching the new science of healthy, successful ageing.  And how to extend health span rather than just lifespan.
And if you enjoyed it, please send the link of this article to any friend or family member who might benefit.
Colin Rose
---
NutriShield Premium Health Supplement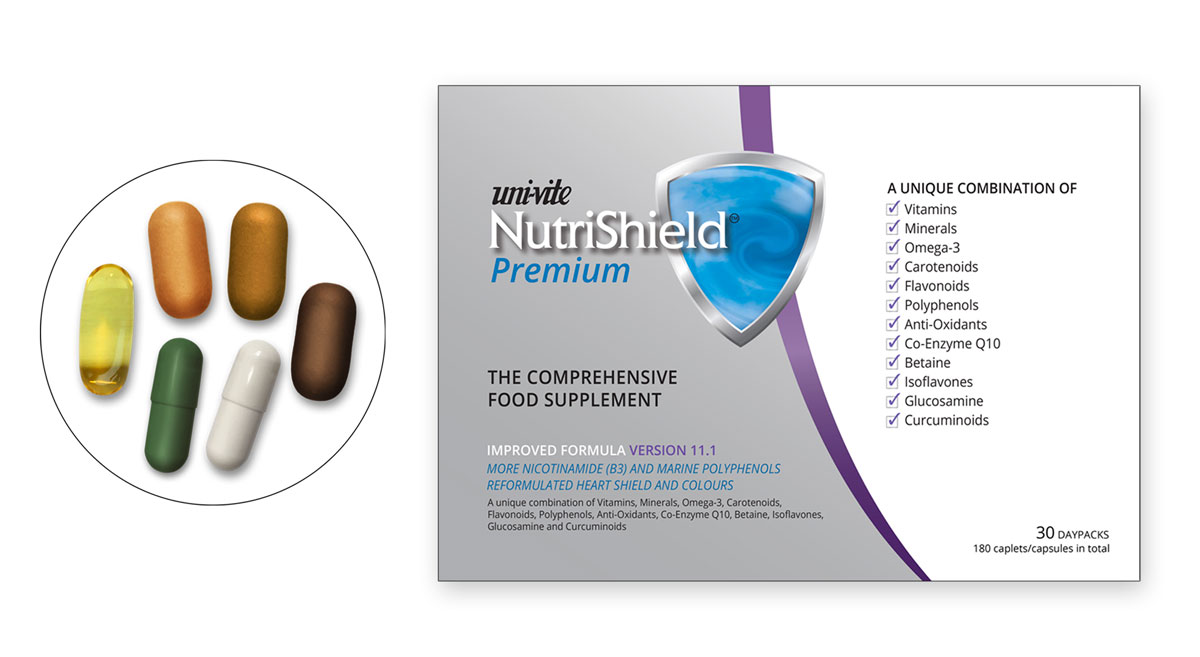 NutriShield Premium was originally designed by Dr Paul Clayton, former Chair of the Forum on Food and Health at the Royal Society of Medicine.
It contains 6 different capsules, combining a total of 43 powerful nutrients to support healthy ageing and has been updated and improved every year since 2002 based on the newest longevity research.
---
NR+A Nicotinamide Riboside + Apigenin
NR+A helps to restore energy in your cells to power a healthier you.
---
Delay Ageing book explains the ageing process and how you can postpone it
Medical researchers agree that if you slow ageing, you also delay the onset of age-related disease. And we know that it's not just nutrition. Sleep, reducing stress and cardio and strength exercise are also essential to longevity and ageing well.
My book Delay Ageing: Healthy to 100, published in 2020, explains the latest ageing science in an accessible way.
It's been rated 5-star and I am sure you will get a lot of benefit from it, as so many have already.
Click here to go to the publisher's website where you can buy the printed book or Kindle version.
---

You can register for a free e-newsletter on the latest in nutrition and health research.
---
You can buy our range of combination anti-ageing vitamin tablets, anti-inflammatory and immune-supporting health supplements online from Uni-Vite, a UK company.