New studies on reducing Alzheimer's risk naturally
Research indicates that NAD+ plays a key role in helping your brain cells age well. And supplementation with nicotinamide riboside and apigenin helps boost NAD+.
Plus, a June 23 study in the Journal of Alzheimer's Disease re-confirms the effectiveness of antioxidant vitamins A and E and carotenoids, including lutein, in helping reduce the risk of this most distressing disease.
Colin Rose is a Senior Associate Member of the Royal Society of Medicine, and Fellow of the Royal Society of Arts.
He is the Founder and Director of Research and Innovation of Uni-Vite Healthcare and author of a recent book: Delay Ageing: Healthy to 100, where he reveals how to slow ageing and, therefore, help prevent later-life illness.
Nicotinamide riboside raises NAD+ levels
In previous articles, we've seen that nicotinamide riboside helps increase NAD+ levels in your body. In turn, NAD+ activates enzymes that promote healthy ageing.
One important group of enzymes is sirtuins, which appear to improve lifespan and overall health generally in animals. Studies indicate that sirtuins repair damaged DNA, boost stress resistance, reduce inflammation and have other benefits that lead to healthy ageing.
Now research indicates that NAD+ plays a key role in helping your brain cells age well.
Within brain cells, NAD+ helps control the production of a protein called PGC-1-alpha. This is a protein that appears to help protect cells against oxidative stress and impaired mitochondrial function.
Oxidative stress and impaired mitochondrial function are directly linked to age-related brain disorders such as Alzheimer's and Parkinson's disease.
In mice with Alzheimer's disease, Nicotinamide Riboside raised brain NAD+ levels by up to 70%, and PGC-1-alpha production by up to 50%. Consequently, by the end of the study, the mice performed significantly better in memory-based tasks.
While mice are not men, the biological pathways involved are very similar.
The supportive literature behind our new supplement NR+A – Nicotinamide Riboside and Apigenin – is expanding all the time.
Lutein, Carotenoids and Antioxidant Vitamins A and E
A June 2023 study in the Journal of Alzheimer's Disease shows that retinol (vitamin A), vitamin E and the carotenoid family of nutrients cut the risk of Alzheimer's.
The main carotenoids are beta carotene, lutein, lycopene and zeaxanthin and they occur naturally in red, orange and yellow fruits, vegetables and plants like marigolds, carrots, tomatoes, apricots, mangoes etc. Lutein is also plentiful in leafy green vegetables.
The study was conducted by researchers from the Rush University Memory and Aging Project. It analysed the diets and cognitive performance of over 1,000 people for more than a decade.
They found that people who followed the MIND diet – on which our own Healthy Eating and Lifestyle plan is largely based – had a lower risk of Alzheimer's disease, and higher cognitive performance.
Those subjects who were consuming the highest amount of the carotenoids lutein and zeaxanthin, had as much as a 50% lower risk of Alzheimer's.
Whereas those whose brains showed signs of Alzheimer's had significantly lower levels of lutein, zeaxanthin, lycopene, tocopherols (vitamin E), and retinol (vitamin A) — up to half the amounts seen in normal brains.
The brain – and especially its white matter – is a fatty organ and vulnerable to oxidative damage. But this damage can be strongly reduced by antioxidants found in a healthy diet, especially emphasising leafy green vegetables which are rich in lutein.
Summary – Antioxidants and nicotinamide riboside
For the best natural brain protection, add supplements to a healthy colourful diet.
NutriShield Premium contains significant daily amounts of all the nutrients and carotenoids highlighted in the Rush University Memory study. And NR+A adds a significant extra boost to brain protection as NAD+ declines, particularly in your 70s and 80s.
---
Thanks for reading
I spend my time researching the new science of healthy, successful ageing.  And how to extend health span rather than just lifespan.
And if you enjoyed it, please send the link of this article to any friend or family member who might benefit.
Colin Rose
---
NutriShield Premium Health Supplement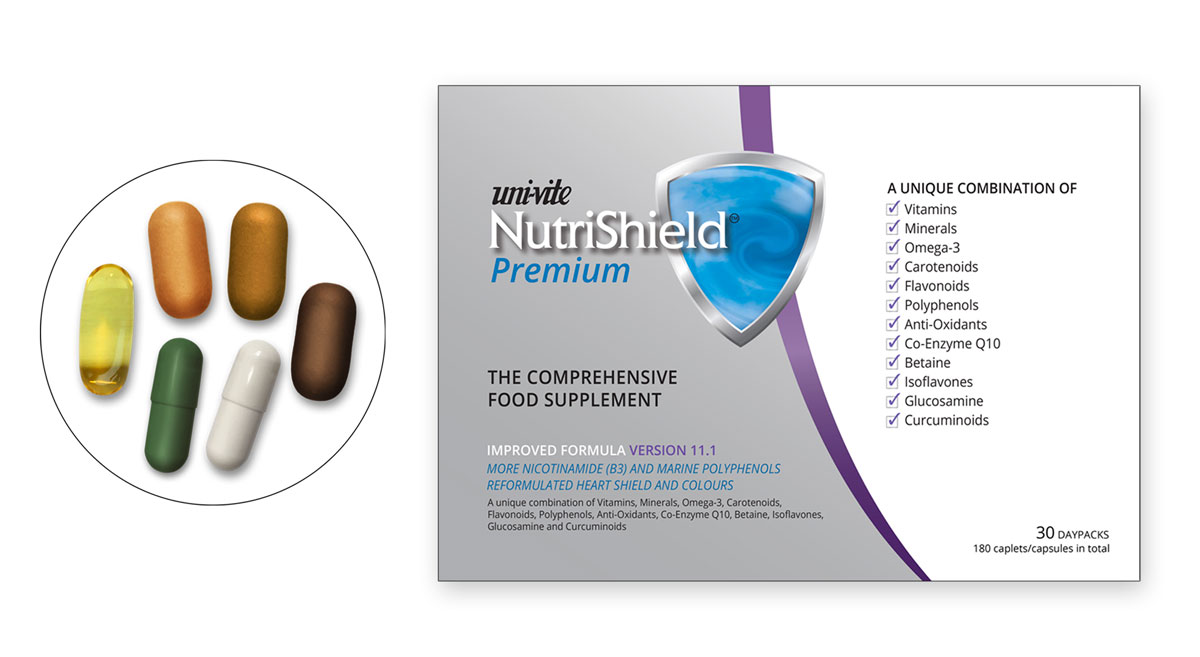 NutriShield Premium was originally designed by Dr Paul Clayton, former Chair of the Forum on Food and Health at the Royal Society of Medicine.
It contains 6 different capsules, combining a total of 43 powerful nutrients to support healthy ageing and has been updated and improved every year since 2002 based on the newest longevity research.
---
Delay Ageing book explains the ageing process and how you can postpone it
Medical researchers agree that if you slow ageing, you also delay the onset of age-related disease. And we know that it's not just nutrition. Sleep, reducing stress and cardio and strength exercise are also essential to longevity and ageing well.
My book Delay Ageing: Healthy to 100, published in 2020, explains the latest ageing science in an accessible way.
It's been rated 5-star and I am sure you will get a lot of benefit from it, as so many have already.
Click here to go to the publisher's website where you can buy the printed book or Kindle version.
---

You can register for a free e-newsletter on the latest in nutrition and health research.
---
You can buy our range of combination anti-ageing, anti-inflammatory and immune-supporting health supplements online from Uni-Vite, a UK company.